Journalist Ross Gregory recently claimed he wants Newcastle United to start youngster Elliot Anderson soon as the player has shown his talent and is a 'breath of fresh air' for the side. 
So far this season the Magpies have shown they are improving significantly under Eddie Howe as while they sit 11th in the Premier League table, they have only lost one of their first six games, which was a narrow loss.
While players like Allan Saint-Maximin, Callum Wilson, and Keiran Trippier have all been great for the club so far this season, there is one youngster who is knocking on the door for a start and could be a star in the future.
This man is Anderson, who according to Gregory is a breath of fresh air every time he plays and is showing that he deserves more time on the pitch and claims Howe should start dipping him in and out of the starting lineup.
He said on NUFC Matters: "He's been a breath of fresh air, hasn't he, every time he plays every time he comes on the pitch, he looks like he's, he wants to be involved. He's demanding the ball, he's creating things. He's making little things happen. I think I think you're probably right. And I think Eddie Howe's probably got it right as well at the minute in terms of not, you know, pushing him right into the spotlight and starting him in games…
"I think he's, there's only so long before he's firmly knocking on the door for a start. I'll be honest, I will have them in the team straightaway now. I would get him in. Yes, he might have to bring him out again, after a game or two, or two or three games or after a little while, depending on how he does.
"But I'm at the point now where I think I've seen just about enough, let's say a look, let's see if you can do this from the start. You might last 60 minutes, might last 45 you know, it might be a case of dipping him in and out. I think what he's shown so far, I'd be tempted to bring him in from the start sooner rather than later."
TIF Thoughts on Anderson…
Anderson has shown himself to be a versatile young talent who can play across the midfield, including the left and right-hand side. Last season he enjoyed a hugely successful loan to Bristol Rovers where he picked up eight goals and five assists in League Two.
So far during his brief 22/23 campaign for the Magpies, he has played just 32 minutes in the Premier League across three games but was praised by Howe for his performance in their Carabao Cup win against Tranmere Rovers.
There is no doubt the 19-year-old has a promising future, but playing him in a bit-part role and getting around 10 minutes every game is not going to help speed up this process. He needs to start getting some serious Premier League minutes under his belt otherwise he will not get up to speed with the league. But considering his talent, I'm sure we will see this soon.
Should Howe start Anderson?
Yes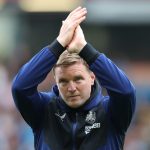 No