According to 90min journalist, Sean Walsh, Tottenham Hotspur star man Harry Kane is having his head turned amid transfer rumours to Bundesliga giants for the guaranteed trophies. 
Despite Spurs' great start to the season, which sees them third in the Premier League table and unbeaten after their first seven games, there have been terrifying rumours surrounding the future of both Antonio Conte and Kane.
While the former has been linked with a move back to his former club Juventus, Kane has also been linked with a European football giant Bayern Munich, who are reportedly interested in the player after they sold Robert Lewandowski to Barcelona.
At the time of writing there is nothing concrete in Kane's interest, but Walsh believes the England captain's head has been turned amid the speculation as he wants to win trophies and believes he can still break Premier League records even if he leaves.
Walsh told the Talking Transfers podcast, "There is something there, there's definite interest in Kane. And Kane's having his head turned just a little bit. And I don't really blame him because you go to Bayern Munich that is a guarantee of trophies.
"Let's not beat around the bush. I was one of the in the camp before where I was like, oh, you know, he doesn't want to go abroad. He wants to stay, and he wants to be Tottenham's record scorer. He wants to be the Premier League record scorer ahead of Alan Shearer.
"Like all those kinds of things. I now realise that in his head, he probably thinks I can go to Bayern Munich two or three years when all there is to win, come back to England and break all those other records. And yeah, I am a little bit worried that there's something in this because ultimately, we're just not a super club like Bayern Munich are." (18:46)
TIF Thoughts on Kane to Bayern…
Losing Kane would be one of the most disastrous losses for the club in their history and would represent the failure of his time there as they have currently won no trophies, despite making a Champions League final.
However, for Kane, this move would be the best for his career. He is guaranteed to win a lot of trophies and can be in a team that could genuinely compete for the Champions League trophy with the likes of Sadio Mane, Kingsley Coman, and Leroy Sane in attack with him.
Spurs will be desperate to keep Kane and they still have every chance to do so if Conte stays and they manage to win a trophy this season. Even if they achieve this, Kane should still consider a move to Bayern. He can take his career to the next level in Germany.
Should Kane leave Spurs?
Yes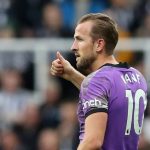 No