Journalist Nathan Judah has slammed Wolves for not starting striker Hwang Hee-chan and complaining about a lack of strikers after the injuries to Raul Jimenez and Sasa Kalajdzic. 
The Midlands side have faced a huge problem during the early stage of their 22/23 Premier League campaign as they sustained injuries to their star man Jimenez before £16m signing Kalajdzic picked up an ACL injury on his debut.
As a result, they bought in the free agent and former Chelsea star striker Diego Costa as a quick fix, despite having Hwang on the bench and available to fill in at the position until their duo returns.
This has infuriated Judah, who in a recent appearance on the Express and Star Wolves podcast, slammed the club for not utilising Hwang and instead complaining and wasting more money on bringing in another striker.
He said: "You can't say to me well we haven't got a striker we've got to play three false nines boo hoo, boo hoo, unlucky we haven't, we're missing Diego Costa we signed a week ago we're missing Raul Jimenez.
"Sorry did you not sign a £13m striker in Hwang Hee-chan? Like I know he struggled but you're the ones who have got him on loan, you're the ones who have signed him so don't give me the whole I haven't got a central striker because you've got a striker on the bench who can play up front can give you a bit of height. Who's got an assist in the first game of the season against Leeds, knocked down to Podence and can hold the ball up a little bit better than what the other three can.
"So that frustrates me more when they say you haven't got a striker, yeah he might not be the top draw striker that you want. We don't know what Diego Costa's going to do, you know he could be absolutely useless. You don't know, you've got no idea.
"We know that Raul Jimenez isn't been there or thereabouts you've got Sasa who's out for nine months or whatever. So, don't give me you haven't got a striker because you've signed one at the start of this season for £13m."
TIF Thoughts on Judah's comments…
Wolves have started the season in horrendous form as they have only managed three goals through their first seven games, which ranks bottom along with West Ham United. Obviously, a big reason for this is down to the lack of a fit striker, but this could have easily been avoided if they had just started Hwang.
The South Korean international may have not scored so far this season, but he has grabbed an assist in his first start against Leeds United and has since only made one start and has failed to even make 10 minutes on the pitch in three of their recent games.
Instead of putting trust in their summer signing, they have now bought in Costa, who has not played in the top flight since he left Chelsea and has failed to pick up double-digit goals in his last four seasons.
We find it difficult to see how the 33-year-0ld Costa can outplay Hwang at the Premier League level. He might not bag a load of goals but he could certainly add assists and bring more speed than Costa can.
Should Wolves start Hwang?
Yes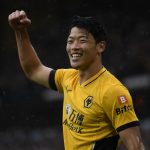 No