ExWHUemployee has revealed that West Ham United have no intention to remove the controversial barrier that separates stands at the London Stadium. 
Earlier this season, images shared online showed that a new instalment at the Hammers' ground had been set up to keep some home and away fans from being able to see and interact with one another during games.
According to the latest Home Office figures (via The Sun), West Ham supporters were arrested more times (95) than any other fanbase in the Premier League last season.
With that in mind, it's no wonder the club stepped in to try and correct this behaviour, and it seems as though they have no intention to bring down the barrier while it is already having the desired effect.
Indeed, while speaking on The West Ham Way podcast, Ex explained that the barrier was working as intended and will remain for the time being.
He said: "I asked about the barrier separating the stands that has been erected and caused quite a lot of disappointment and frustration for the supporters. That is still to remain. They have no plans to take it down.
"Don't know if you saw, but West Ham were significantly top of the 'most arrests' league last season – something West Ham fans are quite famous for. And now we can actually sing, 'top of the arrest league, you'll never sing that' to our opponents.
"The reason their barrier was installed is because most of the arrests occurred outside the ground, but also in that section between the opposition fans.
"So by putting that barrier up, the arrests have significantly reduced. So actually, the club have no real incentive to take it away. So, unfortunately, for those of you that are against it, I believe it is going to remain for the time being."
TIF Thoughts on West Ham and the barrier…
When those initial images of the new barrier emerged online, it's safe to say not everyone was happy. West Ham Fan TV man Dan Lawless said it was a hindrance to the already poor atmosphere often present at the London Stadium.
However, with Ex now stating that it has helped reduce matchday arrests, it's not hard to see why those at the Premier League club will stand by their decision, even if it may have garnered a negative reaction from some of their own supporters.
The West Ham home ground has been criticised in the past for not quite being suited to football as it was built for athletics, so any further hurdles for it to have to overcome, such as this barrier, will be far from ideal.
Regardless, it does seem like a wise call to add this instalment for the time being, and perhaps it can be removed in the future if behaviour continues to improve. For the time being, though, it looks as though it is here to stay.
Are you happy about the changes at the London Stadium?
Yes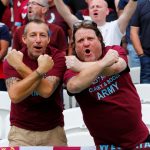 No