According to Talk Sport's Darren Bent, Tottenham Hotspur boss, Antonio Conte, needs to make a decision on Heung-min Son's starting role after a poor start to the season. 
Despite having not lost in the Premier League so far this season, Spurs have not gotten off to the best start in terms of their style of play, with key players like Son not living up to the form we have seen from him in recent seasons.
As a result, there has been speculation over whether or not the South Korean international should continue to start, with Sky Sport's man Michael Bridge claiming he should have been out of the starting lineup for the side's recent Champions League loss to Sporting CP.
After another poor performance, Talk Sport's Bent recently claimed Conte needs to make a decision soon on his starting role in the side as the likes of Dejan Kulusevski and Richarlison have earned the right to start.
Bent said, "I guess it's the reaction for Son, but as I said, it's not just his goals at the minute with Son, it's his all-round performance isn't great. Attacks are breaking down off him, he's running offside when he doesn't need to, he's getting a little bit anxious in front of goal, he's maybe taking an extra touch when he doesn't need to do that as well.
"I think there is real concern there but it's coming to a point where Antonio Conte has to look at that front three and go, well Kulusevski hasn't really done anything wrong to be left out, Richarlison's playing really well at the minute, giving him a real impact, and Harry Kane plays down the middle.
"So, I think sooner rather than later if Son, his form continues and he doesn't keep scoring, he'll be out the team." (3:47)
TIF Thoughts on Bent's comments…
So far this season Son has been one of the team's weakest forward players after picking up just one assist in his first eight games in all competitions from the Lilywhites. Whereas Richarlison has picked up two goals and two assists in seven games and Kulusevski has one goal and two assists in his eight games.
While dropping a player of Son's ability is always going to be a difficult move to make, Conte has these two aforementioned stars in the ranks who have shown they are capable of doing a job for that team when called upon.
Dropping Son for a game or two could ignite something in the player as he will now see that he cannot bank on his reputation to start games. Give him some uncertainty over his role and you could see a spark in the player, rather than letting him play week in, week out when he doesn't deserve it.
Should Son be dropped?
Yes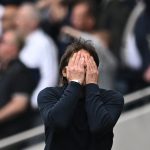 No