Charlie Eccleshare, of the Athletic, recently claimed Tottenham Hotspur boss Antonio Conte must drop Heung-min Son as it is in the best interest of the team for their next game. 
While Spurs have started the season well as they sit third in the Premier League table with an unbeaten record, they have kept games close and struggled to win convincingly.
A big reason for this struggle is down to one of their star forwards, Son, struggling to find the form we have seen from him in recent seasons where he won the Premier League Golden Boot award.
Even though he has struggled, Conte continues to start the South Korean international in favour of Dejan Kulusevski or Richarlison. As a result, Eccleshare claimed on the View from the Lane podcast that Conte needs to drop Son for their next game for the meritocracy of the squad.
He said, "I think yes, there's a waiting for Son to play himself into form. Yes, he was a Premier League Golden Boot winner last season and has been unbelievably good for Spurs over a long period of time.
"But I think you need to think about what's going to both the meritocratic element but also what's going to, what's most likely to win Spurs their next game. And I think it's hard to make the case that they won't have a better chance with Kulusevski starting that game". (13:57)
TIF Thoughts Son's form…
Son has shown himself to be one of the best forwards in the Premier League over the last few seasons, especially during the 21/22 campaign where he picked up 24 goals and 10 assists in all competitions.
However, he has struggled so far this season as he has failed to pick up a goal through their first eight games, for a total of 651 minutes. Richarlison on the other hand has picked up two goals and two assists in seven games and Kulusevski has one goal and two assists in eight.
It is always going to be difficult to drop an important player like Son, but if they continue to start him not only do they run the risk of not playing to their best ability, but the likes of Kulusevski and Richarlison could become demoralised and look to leave. Conte needs to make this decision as soon as possible.
Should Conte drop Son?
Yes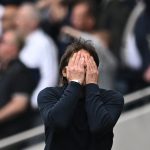 No