Presenter Glen de la Cour has slammed the recent decision to hand Southampton winger Moussa Djenepo a new three-year contract.
Last week, the Premier League club announced that the 24-year-old Mali international would be staying with the side for the foreseeable future as he signed a deal to keep him at St Mary's until the end of the 2024-25 campaign.
While Southampton boss Ralph Hasenhuttl seemed happy with the contract as he described Djenepo as 'a fantastic character' and 'a very popular player in the dressing room', it seems as though not everyone agrees with the decision. 
Indeed, while talking on the Total Saints podcast, De la Cour said that he didn't understand the call and claimed that they might come to regret it in a few years' time.
He said (22:17): "I don't know why they've given him a contract. I really don't. When everyone is fit he is basically our fourth-choice right-back, fourth-choice left back and he's had two good games on the wing in three years."
He then added: (23:00): "I just have a feeling that this is going to be one that we're going to be looking at in a couple years' time, thinking, the guys played four games or whatever in two years."
Before concluding (23:2): "I just don't get it. It strikes me a bit like the Alex McCarthy one last year, where he had a couple of decent games and we went right okay we're going to tie down this player who know one else is going to poach off us. I just don't get it, I would have left him hanging until Christmas.
TIF thoughts on Moussa Djenepo and Southampton…
Despite mainly being a winger, Djenepo has shown his versatility this season by filling in at left-back on occasion in the Premier League.
However, considering he is an attacking player by nature but has scored just four goals and created only three assists in 75 Southampton games, it's not hard to see why De la Cour has his doubts over the player.
It is interesting that he references the McCarthy contract last season too, as the goalkeeper was handed a three-year extension but has since lost his place in the team to Gavin Bazunu, suggesting that might not have been the wisest deal either.
Only time will tell whether or not this was a good decision, but Djenepo will certainly have a lot of work to do if he is to prove his doubters wrong.
Do you think Moussa Djenepo deserved a three-year deal?
Yes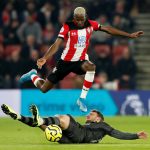 No