According to journalist Ben Jacobs, Rafa Benitez would have been the first-choice manager for Newcastle United under PIF if Amanda Staveley had 100% of the say. 
After the club were bought by the Saudi Public Investment Fund they sacked former manager Steve Bruce and bought in Eddie Howe to usher in a new era for Newcastle, who are now one of the richest clubs in world football.
However, it was recently revealed things could have been a lot different if Staveley, who helped the takeover happen, had her choice of managers. During a recent interview with Steve Wraith on the NUFC Matters podcast, Jacobs revealed that former manager Benitez would have come back to the club if Staveley had her way.
Jacobs said, "But coming back to Newcastle I think the most interesting thing, you'll know better than me Steve, is just again that relationship between Staveley and Benitez and if everything had gone according to plan on Amanda's original aspirations and roadmap for buying Newcastle United, she'd have loved to bring Rafa back.
"That's certainly my understanding, but I'm sure you'll know a lot better than me on that one, but I think that that's the missed opportunity. If Benitez looks now and with all due respect to Eddie Howe, Newcastle have gone in a completely different direction and Benitez was ultimately not available when they chose to bring in Eddie Howe.
"But if you flashback and you put the takeover, perhaps on a different, faster roadmap or even if you go a little bit earlier down the line when Amanda was still looking for investors, there's been a few windows where she could have brought Benitez back to the football club and I think that if you only put it down to Amanda and things have panned out on a timescale that was a lot different.
"My understanding anyways is that Benitez would have always been the number one choice to come back to Newcastle United, at least if she took 100% of the say." (5:56)
TIF Thoughts on Jacobs' comments…
While Howe is doing a steady job at the club, there is no doubt Benitez would have been a huge upgrade in the role if he was given the reigns. He is loved by the fans and has the pulling power to bring in elite talents.
During his time at the Magpies, the Spanish manager averaged 1.48 points per game with a record of 62 wins, 30 draws and 54 losses in his 146 matches in charge. Whereas Howe has managed just 15 wins, nine draws and 11 losses with a much better squad.
Having picked up just one win in their first seven games this season the pressure could be on Howe very soon if he does not improve the side as soon as possible. If the club do in fact opt to sack the former Bournemouth man they should look to bring in Benitez and allow him to take them to the next level.
Should Newcastle have hired Benitez back?
Yes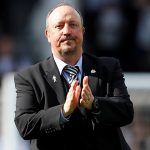 No