TalkSport's Alex Crook recently slammed Leicester City boss Brendan Rodgers for his 'baffling decisions' and claimed it is just a matter of time before he is sacked by the club. 
The Foxes have had a horrific start to the season as they currently sit bottom of the table after seven games and are the only team left in the Premier League without a win to their name.
They have already been on the end of some severe scorelines as they recently lost 6-2 to Tottenham Hotspur, 5-2 to Brighton & Hove Albion, and 4-2 to league leaders Arsenal. As a result, Rodgers' job has been criticised by Crook and his job has been called into question.
Crook claimed it is just a matter of time before the Foxes move on from their manager and it is not surprising when you look at some of his decision like leaving defenders on the bench in favour of moving Wilfred Ndidi out of position.
The journalist told the TalkSport Game Day podcast: "It's a matter of time, isn't it surely, you look at the run they're on one point from seven games they ended last season, in not spectacular form as well, I think is the worst losing run of his career. He's made some baffling decisions.
"We touched on it last week, Ndidi as a centre-back when you've got Vestergaard and Soyuncu waiting in the wings, they're not great players, but they are actual centre backs and Ndidi could then play in his central midfield role.
"They did okay, going forward at Spurs. But defensively, they were a shambles. And Brendan Rodgers just strikes me as someone who's waiting to be fired, waiting to be put out of his misery."
TIF Thoughts on Rodgers…
While Leicester have been the laughing stock of the Premier League so far this season and looks doomed for a relegation scrap, we think it would be a huge mistake for the club to fire Rodgers right now for two important reasons.
Firstly, it has been reported the club would need to pay Rodgers potentially £10m in compensation if they were to fire him, which with their financial problems will not be helpful for the club's future.
There is also a shortage of top-quality managers outside of Zinedine Zidane, Mauricio Pochettino, and Thomas Tuchel, all of which are very unlikely to join the club. This means they could be left with the likes of Ole Gunnar Solskjaer, Frank de Boer, and Rafael Benitez.
We don't think any of these managers are likely to improve the club more than Rodgers can. They should save their money and trust that Rodgers can turn the team around and then give him the required investment it takes to help rebuild the squad in the transfer windows.
Should Leicester sack Rodgers?
Yes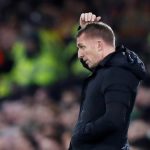 No