Journalist Phil Hay has claimed that Leeds United boss Jesse Marsch has his eye on becoming the United States men's national team manager one day. 
Following the sacking of Marcelo Bielsa last season, the new man came in and helped guide the Whites to Premier League safety and has the side performing well this season too.
However, despite not being in the job for a full campaign yet, it seems as though Marsch could already be planning his next step for a future away from Yorkshire.
Indeed, while talking about the topic on The Phil Hay Show, the journalist outlined why he felt this could be something to keep an eye out for.
He explained: (40:58) "As far as the US Men's National Team goes, Marsch actually speak about that, from time to time. You know, when he gets interviewed, he does kind of touch on the fact that somewhere down the line, he sees that as a job that might be for him. Or he sees it as two parties who might well come together.
"But I think both he and Leeds will be hoping that it is a good while before that comes on to the agenda. I know, it's not as if the top, most elite coaches of the world are crawling all over the USA job, but you would think that in order to take that you'd have to have a good run behind you.
"If it was to end early for him at Leeds in the way that it had at Leipzig, it surely weakens your claim to that sort of position."
TIF thoughts on Jesse Marsch and Leeds…
As an American who has spent time coaching in MLS, while having also won silverware in Europe (with Red Bull Salzburg), it's not hard to see why Marsch could be considered an option for the USMNT one day down the line.
However, as Hay mentions, with his time at Leeds still in its infancy, he may want to truly prove himself in the Premier League before he has any plans of moving on.
Interestingly, though, this possible interest in the job stems back to before his time with the Whites. Indeed, while he was still RB Leipzig manager, he was quoted as saying the USMNT position was 'incredibly interesting'.
In full, he said: "I love the US, I love the American mentality, I love our desire to try to be the best in every way, in everything we do even if it's naive sometimes, and in our sport, I think there's so much more room for growth and potential. Yeah, of course that project is one that is incredibly interesting."
Since then, things have changed for Marsch, who was sacked just four months into his spell in Germany, but he has helped rehabilitate his image with Leeds so far.
For now, though, Gregg Berhalter is in charge over in America, so the situation may not change for some time.
Will Darko Gyabi make his senior Leeds debut this season?
Yes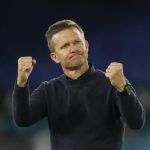 No