YouTuber Conor McGilligan has claimed that Leeds United are still having to overcome their defensive fragilities left over from the Marcelo Bielsa era.  
The Argentinian coach made a hugely positive impact on the club during his time in West Yorkshire. Indeed, having led them to a return to England's top flight after a 16-year absence, Bielsa will always be remembered fondly.
However, he was sacked last February following a dismal run of form which saw them lose five times in six matches and concede 21 goals in that time.
New boss Jesse Marsch did manage to keep Leeds away from relegation, but while discussing the current state of the side, McGilligan claimed that the team's poor defence is still a lingering issue at the club.
While speaking on the One Leeds Fan Channel, he said: "I think it's going to be maybe a case of… it's quite weird Bielsa-isms, in terms of Leeds having to still outscore the opponents – I still feel we're going to be fragile at the back. I still think it is going to be heavily reliant on Leeds scoring more than the opposition."
What's more, from their six games, they have scored 10 goals but have also conceded 10, so it's clear that all their good attacking work is being undone by a certain fragility at the back.
There can be no doubting Bielsa was a hugely important figure in Leeds' recent history – with the club hoping to rename their training ground after him – but it does seem as though Marsch is still trying to fix a weakness in the team that arguably owes its origins to the Argentinian.
If the club do want to truly kick on, they may need to fully shake off the lingering cobwebs of Bielsa's reign and tighten up their defence at last.
Has the Leeds defence improved enough under Jesse Marsch?
Yes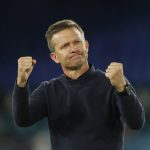 No