During a recent appearance on the Tifo podcast from The Athletic, Seb Stafford-Bloor hailed Everton's Alex Iwobi for his recent form while playing in a new position in the centre of midfield. 
The Toffees have struggled so far this season, failing to pick up a win so far with all four of their points coming in draws. However, despite their poor form on paper, the team has looked better in recent games.
They recently drew 0-0 with bitter rivals Liverpool and were truly deserving of their point as they took the game to the Reds and held their own thanks to some wonderful saves from captain Jordan Pickford.
Another player who has recently garnered praise from Stafford-Bloor is Iwobi, who has found a new home in central midfield and has become the 'senior statesman' for new signing Amadou Onana.
Stafford-Bloor said: "I think what's interested me this year is that the tone of the way he plays and the speed with which he plays has changed. I've always thought of Alex Iwobi as a very active, dynamic footballer, whereas now – especially with Onana coming into the team, he has to be almost the senior statesman because Onana is learning the game at this level.
"He had, I think, 18 months in France. Prior to that, he was in Zweite Bundesliga here in Hamburg, so he's not an experienced guy, especially not in a Premier League situation.
"And so, Iwobi finds himself in a new kind of converted position, but also having to be setting the example and having to take ultimate responsibility for the department, which is really interesting for him.
"I don't think he's turned into Mousa Dembele, I just think that he's been a lot better than I thought he was going to be. And actually, if you were to compile a list of things that have gone well for Everton this season… you'd be hard-pressed to say that Iwobi doesn't deserve to be on that list because he has exceeded expectation."
TIF Thoughts on Iwobi…
So far this season, Iwobi has played in the central midfield role for all six of his Premier League games, picking up one assist and one yellow card in this time. While it is commendable that he has taken on this new role when his team needs him, his stats perhaps suggest he still isn't good enough in the role to take them up the table.
According to FBref, compared to other midfielders in the Premier League this season, he ranks in the 93rd percentile for dribbles completed, but only in the 34th for passes attempted, in the 50th for pass completion and in the 48th for progressive passes per game.
We feel that Iwobi is a good stopgap for the club right now while they rebuild under Frank Lampard and recover from their financial issues, but he cannot be the long-term option for the position, and they need to find a better replacement before they think about challenging the top half again.
Have you been impressed by Iwobi?
Yes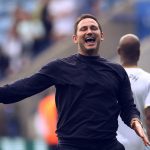 No