According to David Ornstein, of The Athletic, Arsenal did want to bring in star midfielder Youri Tielemans on deadline day if the numbers were able to work for them. 
The Gunners had potentially one of the best summer windows of any team as they bought in the likes of Gabriel Jesus, Oleksandr Zinchenko, and Fabio Vieira while bringing William Saliba back from Marseille and integrating him into the first team.
Some fans may be disappointed they weren't able to bolster their central midfield options during the window despite being linked to Leicester City star, Tielemans, throughout the entire summer, who was being touted for around £25m.
However, it has now been claimed, by Ornstein, that they were, in fact, looking at bringing the Belgian international to the club before the deadline but only if the deal made sense, unfortunately, it didn't and that is the reason why they ultimately looked at Douglas Luiz.
Ornstein told the FIVE Insider show, "Youri Tielemans was one of them because we know they've had strong admiration for him and might have done a deal if the numbers were able to work, but in the end, he stayed at Leicester and so the focus shifted to Douglas Luiz, a player that Arsenal have been linked with for a long time."
TIF Thoughts on Tielemans to Arsenal…
Considering the recent injury problems that have plagued their midfield, the Gunners are in desperate need of a new player at the position if they are to extend their reign at the top of the Premier League table, with a tough test against Manchester United coming up.
Tielemans could have been the perfect signing for their engine room as he brings a great combination of goals and creativity which would be perfect as a number eight alongside Martin Odegaard and Thomas Partey.
Last season he netted seven goals and five assists across all competitions as currently ranks in the 91st percentile for shot-creating actions, 88th for progressive passes and the 84th for assists, compared to other midfielders in Europe's top five leagues.
While it is understandable Arsenal did not opt to spend over the odds for Tielemans, it is hard to see how it would have any more than £30m considering his contract situation and Leicester's need to sell. If they do not sign him for free next summer, this could be one of the biggest misses of the last few years.
Should Arsenal have gone for Tielemans harder?
Yes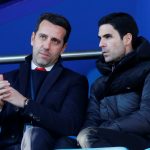 No