Journalist Ben Jacobs fears Southampton would be in big trouble if they were to let star man James Ward-Prowse go this summer.
Despite this slow start to the season, the Saints have done well in the transfer window, signing five outfield players Joe Aribo the only one over the age of 21. While this rebuild is commendable, they need to keep their star players in order to maintain their Premier League status, as their new signings have little experience in the top flight.
With this in mind, one man they cannot afford to lose is Ward-Prowse, who has been their star man for many seasons – and Jacobs believes they would face the threat of relegation if they were to lose him.
Speaking on Newcastle United-based podcast NUFC Matters, Jacobs said: "I'm just not sure that Southampton are going to sell in the next 16 days; they can't have that exodus of players. And with Broja leaving off his loan deal, they've already lost goals, and they have Ward-Prowse, who's the sort of focal point of that team. So it's tricky.
"And unless the player himself really, really forces an exit, he'll be there come the end of the window. So, you're looking at long term, and then once you're looking at long term, your guess is as good as mine, because Newcastle like him, but only in a very speculative sense – under the old regime, by the way – I'm not aware of Dan Ashworth kind of going in with any significant interest.
"Spurs love the player. Chelsea, under the old regime, looked at James Ward-Prowse; Dortmund really like the player; Inter really like the player and made a serious enquiry, by the way, at the beginning of the window as well, as I understand it. So that's the volume, and I'm sure the list is endless.
"So unless anyone makes a dramatic swoop and got player power to try and force a move, I don't think he goes anywhere. I'd be very surprised anyway at the end of this window because Southampton just can't afford to lose the star, otherwise, for me, they're goners."
TIF Thoughts on Jacobs' comments…
Selling a player with the importance that Ward-Prowse has at St Mary's would be a huge mistake, but it would be an even bigger disaster if they were to lose him with just two weeks left in the transfer window.
Ward-Prowse finished as the club's top goalscorer last season, and considering they have lost their second-highest scorer in Armando Broja already, it is hard to see where the goals would come from if they were to lose the England international.
However, considering the poor start from the club this season, it would not be surprising if Ward-Prowse was looking to leave. It does not make it easier that clubs like Chelsea, Borussia Dortmund and Inter are interested, as these are all clubs where he can play in the Champions League and finally win some silverware, which will be even more alluring considering he is no longer just a young prospect.
Surely if a huge offer for the player comes in, the Saints brass would consider it, but it is hard when it could come at the expense of your Premier League status.
Should Saints sell Ward-Prowse?
Yes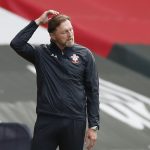 No