Fabrizio Romano has been speaking on the FTBL YouTube channel about Manchester United's summer-long pursuit of Frenkie de Jong.
Man United have been involved in the saga of the summer as they've tried extensively to try and bring the Dutchman to Old Trafford, despite the midfielder making it pretty clear he didn't wish to join the Red Devils and preferred to stay at Barcelona.
The Red Devils did manage to agree a transfer fee with his current club, which is no surprise given Barcelona's financial situation, but they simply couldn't convince De Jong that this move was for him and instead turned their attention to Casemiro.
Romano has now offered clarity on Man United's pursuit of De Jong and the real reason behind him not joining this summer.
Asked whether De Jong simply did not want to join the Red Devils, he said: "I'd like to clarify about that. I'm happy with your question because Frenkie de Jong, he wants to stay at Barcelona, trust me. Chelsea too, have made an important proposal and Chelsea play Champions League football – and also last week, Chelsea were insisting; Man United [have been] insisting since the end of May.
Will Man United regret missing out on De Jong?
Yes!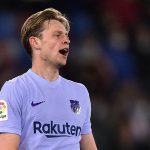 No!
"Many clubs approached Barcelona for Frenkie de Jong and they are open to letting him go. It's not that Frenkie's rejecting Manchester United. It's that he doesn't want to leave Barcelona.
"Why? From what I'm told, Frenkie, first point, loves the city. Then we know the Dutch connection with Barcelona; Barcelona is always something special for Dutch players. And, let's remind that Frenkie accepted to join Barcelona in difficult years because he joined Barca when it was not that kind of team… he accepted to go there when the team was a normal one, not a great one.
"Now after complicated years at Barca, he really wants to play in this team that he feels can win important things, because the team is fantastic, the squad is fantastic.
"Frenkie is not rejecting Man United. Frenkie is determined of staying at Barcelona, this is the reality. So it's true that Man United are insisting, but the reality is that Frenkie wants to stay."
TIF Thoughts on Man United's pursuit of De Jong…
At the beginning of the summer, many may have thought it was an audacious attempt from Man United to bring in De Jong, but one that could have materialised given the midfielder has worked with Erik ten Hag previously.
However, they have ultimately wasted the majority of this transfer window chasing a player that had no intention of leaving Barcelona, which may well have held them back and also contributed to their poor opening performances of the season.
They now have Casemiro in their midfield but he is more of a defensive shield, whereas De Jong would have been that creative spark in midfield, who could have progressed the ball forward and kept things moving, so they could still be left short this season.