Aston Villa left-back Lucas Digne should have felt hard done by at the weekend for the decision to award a penalty against him handball.
This is what former Premier League referee Dermot Gallagher said when speaking on Sky Sports News' Ref Watch on Monday morning.
It was another difficult afternoon for Steven Gerrard and his men as they saw their early lead overturned by Crystal Palace, who ran out 3-1 winners.
And the Eagles' second goal came from the spot after Andy Madley and VAR had decided the French left-back had handled the ball to deny a goalscoring opportunity.
But Gallagher has slammed the decision on his Sky Sports feature, suggesting the left-back should feel hard done by as he challenged Marc Guehi for the looping corner kick.
He said: "For me, it's very, very harsh to give a penalty for that. You know, it was touch-and-go whether the ball hit his head when it came down. If it did, it wasn't going to be a penalty. If you look at it, it didn't.
"The VAR said a) his arm's at shoulder height, b) his arm's in an unnatural position and c) it's headed towards goal.
"I honestly think that if he hadn't have intervened, nobody would have really made a big thing of that, because I don't think anybody really expected a penalty to be given."
TIF Thoughts on Gallagher's comments…
We agree with Gallagher's verdict, with the ball travelling an incredibly small distance from Guehi's head onto the Frenchman's right arm.
Should this have been a penalty?
Yes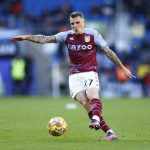 No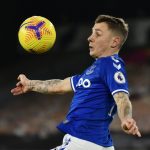 There is no doubting that the ball had hit his arm on the way through to Emiliano Martinez, however, Digne's arm is hardly in an unnatural position for a player jumping to head the ball.
What we would say is perhaps Tyrone Mings – who was free inside the box – should have been marking the Palace centre-back instead of the left-back, who is a fair bit smaller than Guehi.
But regardless of that, we do think Digne should feel aggrieved by the referee given his apparent lack of intention to handle the ball with Martinez likely to save the header anyway.