According to Ben Jacobs, Newcastle United could look to swoop in on Armando Broja this summer on a loan deal. 
Broja, who has been called 'top-class', has garnered interest from many Premier League outfits recently, but as a deal has yet to materialise, it looks like Newcastle could swoop in and try to bring the Albanian striker to Tyneside on a loan deal for next season.
Jacobs believes this could be done if he becomes available, as Chelsea do not want to get rid of the striker on a permanent basis – which is what some of his other potential suitors have been pursuing.
He told Steve Wraith: "I think you should be keeping an eye out on Broja if he becomes available for a loan deal, and that is a conversation that will happen over the course probably of the next week.
"The player might be persuaded to go on a loan deal, and that's where I think that Newcastle might enter the race, so that is one to keep an eye on."
TIF Thoughts on Broja to Newcastle…
Given that Chelsea have already shipped out Romelu Lukaku and recently sold a number of young talents like Marc Guehi, Tammy Abraham and Fikayo Tomori – who have all gone on to shine at their new clubs – it is not surprising they are reluctant to let Broja go permanently.
This could work in Newcastle's favour as they could be looking to bring in the striker temporarily, whereas the likes of West Ham United and Everton are thought to be looking for a permanent deal.
A loan deal could hugely benefit Chelsea as while the Magpies have Callum Wilson and Chris Wood on the books, the starting position could be up for grabs, and therefore, Broja could end up with another season of a good experience for a better side than Southampton.
Letting Broja go to Newcastle for a season could be a win-win for both sides. We will just have to see if Chelsea do in fact wish to let him go in any capacity.
Should Broja go to NUFC?
Yes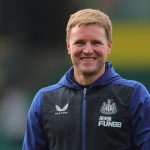 No