Journalist Dean Jones recently reported that Everton have 'accelerated talks' with Burnley for their star man Maxwel Cornet in an effort to bolster their attacking options, but he wants to play at a club higher up the league. 
After a quiet start to the transfer window for incoming, the Toffees have now been linked with the likes of Armando Broja, Anass Salah-Eddine, and Conor Gallagher. While none of these transfers has materialised yet, Frank Lampard has now turned his attention to Cornet, who was relegated with Burnley last season.
According to Jones, the Merseyside club has accelerated their talks for the winger amid a huge rebuild for the now Championship club but also fears Everton could be on the wrong end of the Premier League for him.
He said on the Chasing Green Arrows show, "Actually today [Friday] they've accelerated talks with Maxwel Cornet from Burnley. We can see that there's a mass exodus going on at Burnley, anyone that's half decent is heading out the exit door and this guy is pretty much their best player. So it makes sense that he's going to be going too."
"Surprised there aren't more clubs in for him right now. Like I checked with someone that represents him recently and I was trying to find out what he's waiting for. He was like: 'Well he's waiting for the best possible club he can end up at.' At the moment, the talk had been around like bottom of the Premier League clubs but he thinks he can play at that top end."
"Everton is an interesting one, but it is at the wrong end of the Premier League, obviously."
TIF Thoughts on Cornet to Everton…
It is not surprising Cornet is looking for a move away from Burnley this summer amid their mass exodus from the club in order to maintain finances and the potential of a Premier League return. Signing for a team like Everton good be a great step up for him while still at the age of 25.
Last season Cornet netted nine goals and two assists for the club in all competitions and ranked in the 75th percentile for non-penalty goals. The Ivorian also showed his defensive capabilities for Burnley by ranking in the 81st percentile for tackles, 75th for interceptions, and the 70th for clearances.
Everton will need a player who can perform both on the attacking side of the ball and the defensive if they are to avoid a relegation battle next season. Their star man Richarlison bagged 11 goals in all competitions last season, just two more than Cornet. With this in mind, there is no reason why he could not replicate this output when playing on a better side like Everton.
Would Cornet shine at Everton?
Yes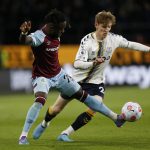 No