Insider ExWHUemployee has explained how West Ham United managed to save a lot of money on the recent Alphonse Areola transfer.
Earlier this week, the Hammers signed the 29-year-old goalkeeper on permanent five-year deal for a fee reported to be in the region of £7.75m.
However, at one point in the recent past, it looked as though finances could get in the way of the Premier League club striking up a deal with Paris Saint-Germain for the Frenchman.
In the end, though, West Ham got the move across the line, and Ex has now explained how they got to 'get a lot of money knocked off'.
Speaking on The West Ham Way podcast, he said (0:36): "West Ham actually managed to do a majorly good bit of business and knock a couple of million off the asking price or Areola.
"I believe Areola went for 7.7m, now this has been confirmed by Dharmesh [Sheth] on Sky. I obviously took his news, he WhatsApped me, and then I've asked around, and it seems to be legit that we managed to get a lot of money knocked off.
"So I asked around again as to how we did that. And basically, we were saying to PSG: 'Look he wants large wages, and you're asking for a fee for him as well. Realistically, we don't know if we can afford this'.
"And you know, PSG wants to get him off the books, off their books and stuff. The player was very keen to come back to West Ham which always played in our favour."
He then added (1:49): "And also, we managed to negotiate Areola taking less of a wage by offering him a five year deal with a year's extension – well, with an option of a year's extension."
Are you happy with the fee paid for Alphonse Areola?
Yes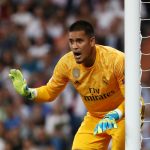 No