Journalist Conor McGilligan has said that rumours linking Leeds United with Arnaud Kalimuendo are simply agent talk. 
According to a recent report in The Independent, the Paris Saint-Germain forward is wanted by the Whites, who have already done as much as offering a fee in the region of €20m (£17.2m).
However, it seems as though that bid may never have actually come in if the latest claims are to be believed. Indeed, McGilligan has said that people he trusts have told him that all the transfer talk is actually 'rubbish'.
Speaking on the One Leeds Fan Channel, he explained his understanding of the situation, saying: "Listen, I just come on here and talk about what I think and what some people who I trust have said to me. And they think it's rubbish.
"But we'll have to wait and see on that one. It might be true, but they reckon the Kalimuendo stuff is just being curated by his agent."
Do you think the Arnaud Kalimuendo links to Leeds are truthful?
Yes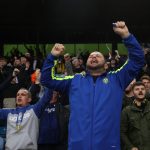 No