According to Gavin Buckland from the All Together Now podcast, the reasons why Everton boss Farhad Moshiri wants to sell the Premier League club is due to their surprise relegation battle last season and worrying financial situation. 
After their disastrous season which saw the Toffees finish 16th in the table, just four points ahead of the last relegation spot, it has emerged that owner Moshiri is now entertaining the idea of selling the Merseyside club.
It remains unclear as to why he is looking to sell the club, but Buckland spoke on the All Together Now podcast about how he believes the battle to avoid the drop last season has worried the owner and the financial threat of relegation which is hard to recover from is a leading factor in his decision.
He said: "I mean, my feeling is that I think the relegation battle has maybe sort of scared him a little bit at the end of last season knowing that his investment will drop, or whatever it is, 80%, 90% if you'd fall into the Championship with no guarantee returning.
"And with things on the pitch not likely to change dramatically, because of our financial situation over the next 12 months, I'm just wondering whether he just doesn't fancy another battle. And that's maybe tipped him over the edge, as it were, and he just wants to get out."
TIF thoughts on Buckland's comments…
The rumours of the potential selling of the club have claimed a consortium led by the former chief executive of Manchester United and Chelsea, Peter Kenyon, consisting of US businessman John Thornton and the owner of Talon Real Estate, Maciek Kaminski.
Buckland claiming their financial troubles could be a leading reason for Moshiri's desire to sell makes sense as the club has reportedly lost £371.8 million over the last three seasons which is a breach of the Premier League financial regulations that a club cannot make an adjusted loss greater than £105m.
We have also seen a number of top clubs fall into obscurity after relegation, including Sunderland, Bolton Wanderers, and Portsmouth who have all struggled to get back to the top flight since their relegations. For these reasons is it understandable that Moshiri would be willing to sell the club, even though it is his reckless spending with no vision that has got the team in this situation.
Will Moshiri sell Everton?
Yes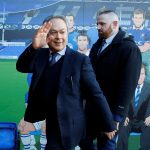 No