Journalist Tony Scott revealed on the All Together Now Everton podcast that star forward Richarlison could leave in the summer after Everton failed to improve over the last few seasons. 
Richarlison was the Toffees stand out player of last season as they faced a number of injuries and struggled to retain their Premier League status after consistent underwhelming performances. They lost starting striker Dominic Calvert-Lewin for the majority of the season, only playing 17 games in the league last season.
This meant Richarlison had to step up to lead the squad, which now has fans fearing that the Brazilian will look for a move away to a Champions League level side. One of these is Scott who believes he has had discussions with the team after they made promises season after season and the lack of improvement has now caught up with them.
He said on the All Together Now podcast: "I think he's had discussions and his agents have had discussions with the Everton board and basically said, 'right, what's the plan this season'. So, he's probably had promises over the past two or three years that haven't been kept.
"So, he's gone in, spoken to the board, given them an ultimatum, so to speak. And let's see what happens in the summer. Do I blame him for going? No, of course not, he's a talent."
TIF Thoughts on Richarlison leaving Everton…
The former Watford forward finished as the club's top goalscorer last season, finishing with 11 goals and five assists and was the only Everton player to hit double digits in 21/22. Over his entire career at the Merseyside club, he has racked up an impressive 53 goals and 14 assists in 152 games and has shown he is capable of taking that step up in terms of club.
It has been reported that North London club and fellow Premier League side Arsenal are interested in signing the Brazilian, with them reportedly being offered the chance to sign him if they stump up the £50 million asking price from the Toffees.
With Everton's track record it does not look like they will climb far up the Premier League table anytime soon, with that in mind it might be time for Richarlison to find a new footballing home and challenge himself further.
Will Richarlison leave Everton?
Yes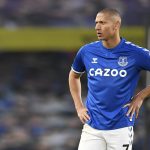 No