Journalist Tony Scott has revealed that he's heard Peter Kenyon would be 'strict' and 'knows how to run a football club', with the future of Everton uncertain.
Scott was speaking on the All Together Now podcast amid talk of a proposed takeover by a consortium led by Kenyon.
It is believed that there is a significant possibility that current owner Farhad Moshiri would be open to selling, and has reportedly set his asking price at £500m.
The Toffees will kick off the new Premier League campaign in just over seven weeks, so Scott is eager to see the parties come to a decision quickly – but given the former Manchester United and Chelsea chief executive's track record, he isn't totally downbeat regarding the situation, albeit while claiming he was '50/50′ with regard to the consortium's reported interest.
Will Moshiri sell Everton?
Yes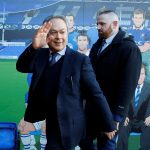 No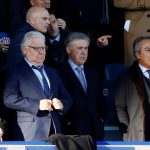 "Listening to stories in terms of who I'm speaking to involving Peter Kenyon, he may not be the best of personalities, but one thing he does know – he's strict, he's disciplined and he knows how to run a football club.
"If you look at Chelsea and Manchester United's best periods of their football clubs in [the past] 15/20 years, he was involved in them. But listen, I'm not too sure. I'm up in the air.
"I'm a little bit 50/50 in terms of going to sleep tonight, worrying what will be going on in terms of our football club going forward for the next three or four weeks.
"But one thing that does need to be resolved is that it desperately needs to happen over the next two or three weeks.
"In terms of Everton in the summer, for Frank Lampard, for the recruitment, for the scouting, in terms of everything going forward, if it doesn't or it does, it needs to happen sooner rather than later, in my opinion."
TIF Thoughts on Kenyon and Everton…
Born 10 miles away from Old Trafford, Kenyon began working at his boyhood club in 1997 and was appointed chief executive in 2003 before a 'bitter switch' to the freshly bought Chelsea, where he stayed until 2009, much to the chagrin of Manchester United fans.
Nevertheless, as Scott pointed out, his pedigree does speak for itself in that he was responsible for the success in west London during Roman Abramovich's early years and he could well be a tremendous acquisition for the Toffees.
However, having just staved off relegation last term, Everton need investment, and quickly, or else they risk facing another tormentful campaign – and like Scott, all Evertonians will be hoping that the takeover talk doesn't drag on.