On the All Together Now podcast, journalist Greg O'Keeffe has claimed that Farhad Moshiri's valuation of Everton sits at around £500m – and this price is 'unrealistic', amid rumours of a takeover. 
Moshiri's reign as Toffees owner has been a disappointment, to say the least, as in the last three years, they have finished in mid-table, while they narrowly escaped relegation after a poor season under former Liverpool manager Rafael Benitez and current boss Frank Lampard.
As a result of the poor form and investment in the transfer window over recent years, which has seen an injection of around £500m squandered on players like Davy Klaassen, Yannick Bolasie, Morgan Schneiderlin and Moise Kean, it would now appear that Moshiri is willing to sell the club.
However, according to O'Keeffe, Moshiri's valuation of the club currently stands at an 'unrealistic' price, due to the debt the club is in and the fact investor Alisher Usmanov has pulled out of funding.
He said on the All Together Now podcast: "I think he would obviously have a valuation of the club, which, what I'm hearing it might be quite ambitious, and therefore I don't think, as much as he might feel that he wants to sell it because of the withdrawal of Alisher Usmanov, I don't he would just walk away, cut his losses type of thing.
"He might not be able to recover all the money he's put into the club, that's no doubt. But I think he would certainly look to get the money back that he's front-ended for the stadium, for example. I think there's a degree at which he is always going to make a loss on Everton.
"I think £500m, at the moment, given our debt as well, I'd say that's quite ambitious."
TIF Thoughts on O'Keeffe's comments…
Considering the recent state of the club, it is hard to see how Moshiri will get £500m from any potential new investors. They have spent that money on transfers since he came into the club, which has landed them in trouble with Financial Fair Play.
The club is also in debt, reported at a net £58.7m after 2021, due to the plans for investment into their new stadium, as well as the huge £170m loss the club took as a result of the pandemic. Their losses reportedly total £121m in 2021, which now puts their total loss over the last four years at £400m.
Any chance to sell the club could be in the best interests of Moshiri and the fans as the owner's reign has been nothing short of disastrous, but if the owner wants to at least recoup the transfer fees he's spent while at the club, they could run into trouble.
Will Moshiri sell Everton?
Yes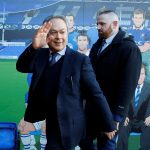 No