Journalist Charles Watts has claimed that he would have been 'frustrated' had Arsenal failed to tie Eddie Nketiah down to a new contract this summer. 
At one stage not that long ago, it looked as though the striker would refuse to sign an extension with the Gunners and he would have been able to join a new club for free.
However, after a change of heart, Nketiah has committed his future to the Premier League outfit. In a post shared by the official Arsenal website, it was recently confirmed that the 22-year-old has agreed to sign a new long-term contract, while also moving his shirt number from 30 to 14.
While talking about the big news on his YouTube channel, Watts expressed his relief that the deal had been sorted because it would have been frustrating to see the young forward leave for free.
The journalist explained: "My view on it is, look, I'm not sure I would have shed any tears had Eddie left.
"I think what I would have been most frustrated about if Eddie had left this summer is the fact that Arsenal would have lost him for free. That would have annoyed me."
Was it a good move from Arsenal to give Eddie Nketiah a new contract?
Yes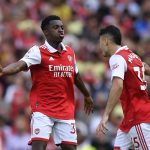 No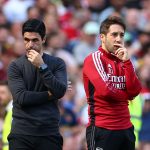 TIF thoughts on Eddie Nketiah and Arsenal…
Around this time last year, Crystal Palace were supposedly keen on signing Nketiah for a fee in the region of £10m, but Arsenal valued him at double that amount.
If that really was the case, the Gunners would have missed out on a potential £20m had the forward departed for free this summer. With that in mind, it's no surprise to hear Watts explain why he was so nearly left extremely frustrated by the whole situation.
In the end, though, Nketiah managed to play regularly for the club in the second half of the season, and in that time, enough was done to convince all parties that they would be better off together.