Everton forward Salomon Rondon could be about to get a much-needed boost as two of his teammates are linked with a move away.
Up to this point in the season, the striker has struggled to make a huge impact for the Toffees. However, a couple of recent rumours that relate too Richarlison and Dominic Calvert-Lewin could propel him into the limelight next season.
With that in mind, TIF has decided to investigate.
What's being said?
With the rumour mill now truly starting to churn, two of Everton's key players have been linked with a summer exit. Indeed, pundit Darren Ambrose recently suggested that it could be best for Richarlison is he was to go overseas instead of hanging around in a 'sulky' mood in England.
He told TalkSPORT: "On his day he's fantastic. He's got great ability. Kind of Brazilian ability, you can see that at times, but on the flip side he can be moody, he can be a little bit sulky on the pitch as well.
"Honestly I don't know where he would go in England other than staying at Everton. So maybe a move abroad would be the way forward for Richarlison which would be a shame, because he is a good player but I just can't see another manager really putting up with his sulks."
Beyond that, one of the club's other strikers, has also been heavily rumoured with a summer departure. Indeed, Calvert-Lewin has been reported to be weighing up a move to either Arsenal or Newcastle United in the near future.
Although, former West Ham United forward Frank McAvennie recently told Football Insider: "I'm not sure why you would go to Arsenal instead of Newcastle.
"They won't be far off each other soon and only one of those clubs is on the up in my opinion.
"I think he's having a stinker if he goes to Arsenal, he has had such a bad season as well.
"So he needs to prove his fitness before thinking about moving on. I think him leaving is nailed on.
"He's brilliant on his day but he hasn't had the chance to show it this season."
Rondon and Everton…
If those two were to leave, it would Rondon as the club's only senior striking option – as Cenk Tosun will see his contract expire at the end of the season too.
Now the thought of that may well send shivers down the backs of many Everton fans. After all, he has managed just one Premier League goal during his debut campaign with the club.
However, Rondon has only started eight of the 18 league games he's featured in this season, and so it's been hard for him to build up much momentum.
Will Rondon ever come good for Everton?
Yes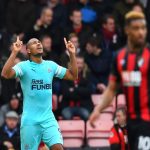 No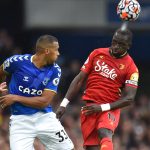 Of course, if Richarlison and Calvert-Lewin were sold, a new forward would almost certainly be brought in. But if one player comes and two players leave, this could leave more game time for Rondon to flourish.
For instance, when he was the trusted number nine at Newcastle, he managed to bag 11 goals and seven assists in 32 Premier League games – starting in 30 of those matches.
He might not even ended up being a 20-goal-a-season striker for Everton, but if he a bit more faith is shown in him, the Venezuelan could shine for the Toffees yet.
In other news: 'They are amazing' – Everton ace blown away by fans in behind-scenes footage