Everton fans will surely be fuming as it has been revealed that they rejected the chance to sign the sensational Erling Haaland back in 2016 for a measly £60,000, but were 'worried he would lose his effectiveness'. 
Everton has faced increased criticism this season over their poor form in the transfer market which has subsequently caused their torrid form in the Premier League this season, which sees them in a relegation battle.
However, the recent news of a certain transfer miss might be the worst of the bunch as it has been revealed they rejected the chance to sign new Manchester City signing Haaland for only £60,000.
On Sky Sports Super Sunday Matchday, journalist Darren Lewis shared this, much to the surprise of those in the studio:
"If you're an Everton fan look away now because Everton rejected a Haaland deal worth £60,000.
"It's an intriguing piece by the reliable Jonathan Northcroft, probably tells us a bit about Everton's recruitment policy over the last six years or so because Jonny says, Everton turned down the chance to buy him because they were worried he would 'lose his effectiveness as he got older."
TIF Thoughts on missing Haaland…
Everton have had a lot of horrible transfer blunders over the years, including signing former Ajax man Davy Klassen for £24.3 million which resulted in the Dutchman making just 16 appearances for the club before being shipped off to Werder Bremen for £12.15m.
However, this one takes the cake for the worst transfer decision that has ever been made by the club. Haaland has cemented himself as one of the best young players in the world and has just completed a huge move to Man City in the last few weeks after bagging 86 goals in 89 games for German outfit Borrusia Dortmund.
The Norwegian striker is currently valued at £135m which would have been a huge profit on the Toffee's £60,000 investment if they had decided to sell him. Situations like this are always easier to see in hindsight but deciding not to sign a player that you already thought was good is just unforgivable.
Is missing Haaland the worst Everton transfer mistake?
Yes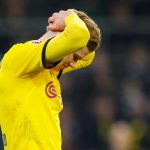 No