TalkSport presenter Adrian Durham has suggested Bukayo Saka has to leave Arsenal for the good of his career.
Saka was a key member of Mikel Arteta's squad this campaign, featuring in all 38 Premier League games as he scored 12 goals and provided seven assists in all competitions. At just 20 years of age, he has already evolved into one of the team's stars, and a big future surely awaits him.
Durham, though, believes Arteta's use of the England international could come at a detriment to his long-term future in the game. He said on TalkSport: "He has to leave Arsenal for the good of his career. This season, he's played 48 games in all competitions, he's played in all 38 Premier League games, starting 36 of them. And he's 20 years old.
"This is frighteningly similar to Jack Wilshere's stats in the season that basically ruined his career – he didn't play a single game the following season because of injury because they played him too much when he was that age.
"I think he's still played less than 100 games in his career, and from the middle of last season where he suddenly burst onto the scene, and now they can't leave him out, they can't rotate him.
"He's still young, they're not looking after him properly."
TIF Thoughts on Saka…
It is an interesting point of view. Perhaps Durham meant Premier League appearances when he said he hasn't played 100 games – he has featured 97 times in the division – but he has already made 131 appearances in all competitions during that time. He has so far not had any serious injuries, but the cases of Wilshere – and Michael Owen as another example – should be cautionary tales for the forward.
Co-host Andy Townsend mentioned Phil Foden and suggested Pep Guardiola shouldn't play him as much, either. The fact is, at the end of the 2019/20 season, with Foden turning 20 just a few days later, he had made 74 appearances in all competitions, with the majority being from the bench. Even in this campaign, as an established City player, he made just 28 appearances in the top flight – so you could argue he is still being managed at a young age.
Is Saka being overplayed?
Yes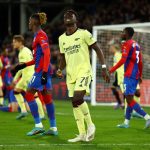 No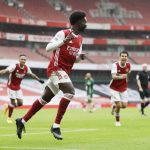 £58.5m-valued Saka, though, should not be looking to leave Arsenal. Instead, he needs support in terms of the squad around him so that he can be rested from time to time.