Journalist Charles Watts has said that Raheem Sterling's rumoured move to Arsenal could be thwarted by his wage demands. 
This week, a report in The Telegraph claimed the Gunners are 'ready to explore' a possible transfer for the Manchester City as his contract enters its final year.
The article added that, with Mikel Arteta hoping to bolster his squad with greater attacking talents this summer, he may push for the winger if he becomes available due to his contractual status.
Should Arsenal push the boat out to sign Raheem Sterling?
Yes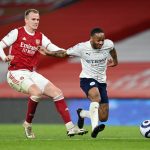 No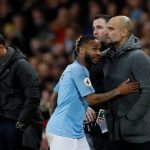 While speaking about the story on his YouTube channel, Watts explained that Sterling fits the right profile of player the club are looking to sign in terms of position, but his wages could be the main 'issue' that halts any move.
He explained (17:35): "I think with Arsenal, they're going to sign a central striker but then they're also going to sign that sort of player who can play across the frontline.
"Sterling 100 percent ticks the boxes when it comes to that. He can play central if he has to, [he] can play out wide, scores goals – scored another couple for Man City yesterday. London boy, obviously.
"Only issue is wages. I mean, I think he's on about 300 grand a week at Manchester City. 
"Given how hard Arsenal have worked to reduce their wage bill in recent seasons, I'm not quite sure how he would fit in to that wage bill if Arsenal did make a real push to sign Raheem Sterling. But that's something for Arsenal to work out."
TIF thoughts on Raheem Sterling and Arsenal…
Of course, what might make this deal more favourable to player and club is the fact that Sterling has an established relationship with Arteta already.
Indeed, the two worked together at Man City when the Spaniard was a coach there, and he was even credited for helping the Englishmen discover some of his best goalscoring form.
In 2017, Pep Guardiola was quoted in the Independent as saying: "I think Raheem is enjoying scoring goals. He's not scared, he's not afraid to take a risk.
"And now he's seeing how fun, how good it is to score goals. Now he's more focused on that.
"Mikel Arteta is working many, many hours and days after training specifically about the last action on the pitch – that control in the last moment to make the right movement in the final three or four metres."
With that in mind, it's easy to see why a summer transfer could be favourable for Sterling. Even so, with his wages pretty high, as Watts explains, this deal may have a long way to go before it gets across the line.
In other news: 'I was really worried' – Charles Watts brands Arsenal ace 'stupid' after incident