Journalist Beren Cross has called out referee Paul Tierney for a number of "strange" calls during Leeds United's physical game against Manchester City, as the referee failed to get a grip on the game.
Leeds found themselves 1-0 down at the break of their important fixture against City. While the game had been largely uneventful in terms of goals up to that point, it was rich in physicality, with both teams putting their bodies on the line during the first 45 minutes.
Referee Tierney has put himself in the middle of the action, with Cross writing on Twitter: "Some strange calls from Tierney.". Fellow journalist Graham Smyth also complained about the decision-making, saying: "Tierney is keeping everyone guessing here. Giving things that he could let go, letting things go that he could and should give."
The horrible calls continued until Dallas, who continuously fouled City's Jack Grealish throughout the first half, unfortunately hurt himself in the process of a challenge which ended in his departure from the field via a stretcher.
This was labelled as "down to terrible refereeing from Paul Tierney" by the Times journalist Martin Hardy, who continued: "Dallas was allowed to keep fouling Jack Grealish to the point he has seriously injured himself."
The criticism of Tierney continued after half-time, with writer Ryan McGinlay stating the Dallas injury could have been avoided if the referee stamped his mark on the game earlier. He stated on Twitter: "That injury doesn't happen if the referee books Dallas earlier on in the game. Very poor."
There is still a long way to go for Leeds to secure safety for another Premier League season, and injuries like the one to Dallas and the pre-match injury to Liam Cooper will not help their chances, and they need to find stability both on and off the pitch.
Do we need new referee's in the Premier League?
Yes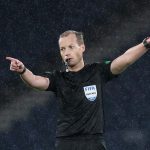 No