Football writer Charles Watts has compared Arsenal's transfer interest in Dominic Calvert-Lewin to the signing of Aaron Ramsdale.
It is certainly no secret that the Gunners are keeping an eye on the Everton striker ahead of a possible summer move. Unfortunately, though, his recent form has not been that good – a significant injury has meant the Englishman has not scored since the third Premier League game of the season.
With that in mind, if Arsenal did make the signing, Watts has suggested that people would be highly critical of it, just as so many were when the club signed Ramsdale last summer from Sheffield United.
While speaking on his YouTube channel, the journalist outlined his thinking, saying: "Arsenal like Dominic Calvert-Lewin, definitely.
"Going to be interesting, though. You sign Calvert-Lewin last summer and no one bats an eyelid, because he's had a great season – playing for England, scoring for England, scoring loads for Everton.
"You sign him this summer, and it kind of feels a little bit different because he's not played, he's been injured, he's been out of form since he's come back, he's desperately searching for fitness.
"If they do go and sign Calvert-Lewin in the summer, then it's going to kind of feel like last summer when they signed Aaron Ramsdale and there'll be an awful lot of people saying, 'Oh, what a dreadful signing, waste of money'. Whether it ends up being like that, who knows?"
TIF thoughts on Dominic Calvert-Lewin, Aaron Ramsdale and Arsenal…
It's safe to say Ramsdale has proven his doubters wrong with some impressive form this season. Earlier on in the campaign, former Arsenal player Paul Merson told Sky Sports (via football.london): "He has been absolutely outstanding. I have been one of his biggest critics. He has definitely been outstanding today [vs Burnley]."
Would Dominic Calvert-Lewin be a good fit for Arsenal?
Yes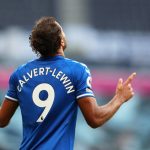 No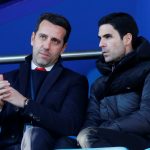 Calvert-Lewin may only have three league goals to his name this term, but he's reached double figures in the two prior seasons. And still being only 24 years of age, there is plenty of time for him to improve.
Considering the way Arsenal's recruitment team got it right with Ramsdale, if they did decide to splash the cash on the Everton striker, it would certainly be foolish to dismiss the move right away.
In other news: 'He gets a nine' – Charles Watts blown away by 'brilliant' Arsenal man who 'scared' Watford