A number of Leeds United fans have reacted with anger after seeing footage of a Joe Gelhardt incident from their recent Premier League game.
In their last outing, Marcelo Bielsa and co recorded an important 3-1 victory over fellow relegation candidates Burnley thanks to goals from Jack Harrison, Stuart Dallas and Dan James.
Despite the win, one moment has left the Leeds fans not so happy. With the score still 2-1 and the game in the balance, a snippet shared online by All Leeds TV shows Gelhardt challenging the Clarets' James Tarkowski for the ball in a promising area.
The Burnley man loses out but goes to ground easily, tripping the Leeds striker in the process. In the end, a free kick was awarded against Gelhardt when it looked like he did little wrong.
It seems as if these supporters have not forgotten the controversial moment.
Here's what these Leeds fans had to say…
"I couldn't believe he gave Burnley the free-kick for this. And the one against Llorente for their goal. Awful officiating again yesterday. But got to be said he was awful both ways."
"We seen this from the Kop, some how the ref didn't, had a shocker."
"Refereeing was abysmal yesterday, but you kind of expect it week in week out now, it's part of the game, it's us against everyone, and when we get together it's phenomenal, and that's why no one likes us…"
"Like most of our games, the officiating is atrocious."
"Ref bottled that completely."
"Should've been sent off second yellow"
"Referee was disgusting yesterday"
"The choice was, give Burnley a free kick or send the no. 5 off. He chose the easy option!"
What makes it even more upsetting for the Leeds support is the fact that Tarkowski had already picked up a yellow card. In the footage, he can clearly be seen sticking out an arm to pull down Gelhardt. Had the referee spotted that and awarded the home team the free kick instead, the Burnley man surely would have been sent off.
Was it a foul on Joe Gelhardt?
Yes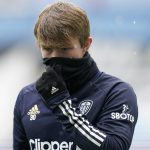 No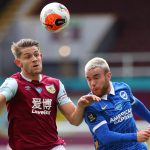 In the end, it did not matter as Gelhardt dusted himself off and provided the assist for Leeds' final goal of the game just moments later.
Still, had the Clarets claimed an equaliser instead, this moment would have no doubt caused huge debate amongst fans.
In other news: 'Incredible' – Journalist claims Leeds have found their 'saviour'