Manchester United are always linked to the biggest names in football, signing the likes of Cristiano Ronaldo and Raphael Varane in the last window.
This time, like many of the major sides in the world, Erling Haaland is being linked to the Red Devils, with Samuel Luckhurst looking at the stumbling blocks for Manchester United if they were to make a move.
Could United realistically sign Haaland?
Yes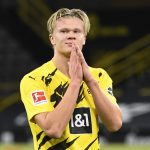 No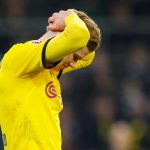 Amid concerns that buying Haaland could put Ronaldo's short-term future into question, Luckhurst believes that while they could lure the striker to Old Trafford, buying the Norwegian could yet pose problems for the Red Devils if it means potentially removing Ronaldo as their main superstar.
Speaking on OTB AM, Luckhurst had the following to say: "It's a key issue there in the way United are playing, with a front two at the moment, there'd be room for Haaland, he could play with Ronaldo. But nobody knows if Ralf Rangnick is going to be the next permanent manager of Manchester United. And if he isn't, will the next permanent manager play with a front two? The probability is unlikely.
"In which case, would Ronaldo play on the wing? I don't think that you can really do that anymore, even though he's had spells there during games where he has done very well. But I suppose from United's perspective, they feel as though they can make a compelling pitch to Haaland in that he can play alongside Ronaldo, which is certainly an incentive for just about any player in the world."
TIF Thoughts on Haaland…
As things stand, unless stupid wages are offered, you would think Manchester United wouldn't be able to land Haaland as they're currently languishing outside the top four. One of the best players in the world is arguably unlikely to go somewhere where he wouldn't have Champions League football.
Obviously, all that could change and United could go on a run to secure a top-four position or even a run in the Champions League, at which point, the picture may well be brighter in terms of persuading talents like Haaland to join.
Regardless of how the season ends, you'd expect Manchester United to join the list of teams going for him – you'd be stupid not to try and sign a player rated at £135m when his release clause is substantially below that.
At just 21 years old, Haaland has 84 top-flight goals in just 112 games, a staggering accomplishment for someone that young. It's no shock that the elite of world football are all desperate for the Norwegian's signature.