Celtic were fined £12,600 for a banner they displayed in their home tie with Ferencvaros.
The tie kicked off at 3:30pm, something you don't expect for any European fixture. This angered the Celtic supporters who vented their frustration at the governing body in a creative way.
Their banners had an explicit message for UEFA jumbled up on a Countdown set, with another banner giving a 'conundrum clue' of 'fans before TV.'
Celtic now have 90 days to pay the fine, and their fans on Facebook weren't shocked at the punishment, with some claiming it was 'worth it.'
How the Celtic fans reacted to the UEFA fine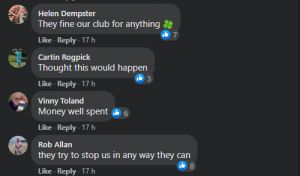 It's clear to see the disdain for UEFA from the Celtic fans, who aren't afraid to have their opinions heard.
The fine came after UEFA clamped down on Rangers and Brondby for more deserving crimes. However, Celtic fans were still frustrated that they didn't have 'free speech' in their game.
We've already seen fans boo the Champions League anthem (Manchester City), could we see similar action from Celtic towards UEFA from now on? We certainly wouldn't be surprised after that!
Did UEFA make the right decision to fine Celtic, or should the banner have gone unpunished?