A whole host of Newcastle United fans on Twitter have flocked to Mark Halsey's comments on the penalty given away by Ciaran Clark on Saturday.
The Magpies may well have taken a point at half time on Saturday evening as Brighton dominated them and were handed a penalty by referee David Coote, which was the fifth one to have gone against Newcastle already in the Premier League this season, so it seemed like things just weren't changing.
Will Howe succeed at Newcastle?
Yes!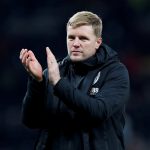 No!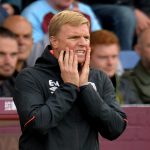 However, Newcastle fought back and managed to secure a point, but they should potentially not have even been behind given how controversial the penalty decision was, as it needed the VAR, Craig Pawson, to make the decision – who took so long to amend a supposed clear and obvious error, something former top-flight referee Halsey highlighted.
Halsey shared via Twitter: 'Coote was perfectly placed and did not see any foul at all. Was that a clear and obvious error?
'It simply cannot have been because it took VAR Craig Pawson more than two minutes. Pawson has effectively re-refereed the incident.'
A lot of Newcastle fans reacted on Twitter to Halsey's comments regarding the penalty decision.
What have these Newcastle fans been saying?
"Must speak far too much sense to be a current referee!"
"This is exactly right, if it takes you that length of time with so many different angles then it cant be clear and obvious! Use VAR correctly or not at all!!"
"WHERE'S THE CONSISTANCY !!!!!!!!!!!!!!!!!"
"We arguably have the best league in the world, but sadly comes with the worst referees. I cannot get my head around year after year they are so so poor. The inconsistancy is appalling.. one foul gets a pen, yet the exact same foul a different week gets nothing. So shameful"
"Think Coote would be better off taking a monitor on the pitch with him. Absolute joke of a ref."
"Refreshing to hear former professional referees go against the status quo unlike Peter Walton whenever he's on BT who has never once disagreed with the ref's decision when I've been watching"
It will not be too much comfort for Newcastle fans to hear a reason why the penalty should not have been given as it will not change anything, they can just hope that some referees take it on board so they don't experience the same fate later in the season.
In other news: 'Wow', 'Absolutely staggering' – Lots of NUFC fans fume over 'horrendous' footage