Many Leeds United fans have taken to Facebook to express their delight as star striker Patrick Bamford delivered a positive update on his injury recovery.
Bamford, who has been sidelined since injuring his ankle in the 1-1 draw at Newcastle United on September 17, was initially believed to be out of action through injury for approximately four weeks out for Marcelo Bielsa's side.
However, the Leeds boss said earlier this month that the issue was not a simple injury, with Bamford having now missed the Yorkshire outfit's last nine games in the league and in cup competitions since that Magpies stalemate.
Good news then emerged earlier this week as United showed footage of the 28-year-old training on the grass as the England striker, and Bamford has now provided a further positive update on The Official Leeds Utd Podcast   – after an initial scare at the weekend over his healing ankle.
"I'm actually really good to be fair," said Bamford (via The Yorkshire Evening Post), asked how he was getting on and when he would be back playing.
"This doesn't sound too good but last week I hurt my ankle again. But it wasn't bad.
"I twisted it just when I was outside running like doing full speed stuff and moving about and they thought 'oh, has he re-done the injury?'
"But really when they checked it, the ligament has pretty much healed and obviously it heals thicker than it originally was so every movement I do it catches on the ligament."
Now, many Leeds fans have taken to Facebook to express their delight after Bamford's injury update: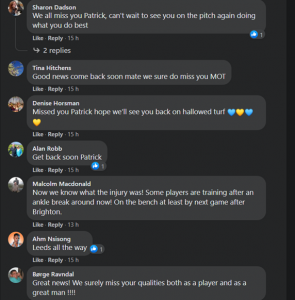 After facing Brighton, Bielsa's side face back-to-back home games against Crystal Palace and Brentford as they aim to reignite their campaign and surge up the league table.