A number of Newcastle United fans have been left furious after journalist George Caulkin provided an update on the immediate future of Steve Bruce.
Rumours surrounding the fate of the current Magpies boss have gone into overdrive ever since Mike Ashley sold the club to a Saudi-led consortium. But, as things stand, Bruce still remains in charge of the club.
Following a weekend without domestic football due to the international break, the Athletic reporter sent out a tweet explaining that Newcastle's new owners would be back on Tyneside today and will meet the squad.
More notably, however, Caulkin said that 'as of last night' (Sunday), there was 'no decision' made on Bruce as of yet, and that he does not expect him to be fired just yet.
Will Steve Bruce be manager by the end of the week?
Yes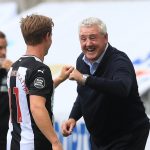 No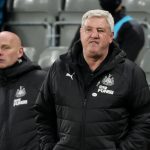 The update did not go down particularly well with some of the club's more impatient fanbase members.
Here's what these Newcastle fans said…
"That's my Monday ruined already."
"Need him gone asap."
"No need to prolong the situation for him!! Just get rid….."
"Breaking my heart."
"Seems it's Bruce with defence and the rest with Jones. Madness as ever just as well we have changes a coming
#nufc"
"Must admit it makes absolutely zero sense to keep him around or take anymore training sessions, I get they've not got anyone lined up yet but Bruce simply cannot stay."
"Sacking Bruce will have nothing but POSITIVE effects. His very presence is detrimental to the team going forward."
"There's no benefit to keeping him around for a moment longer, for either the club or the manager. Just put him out of his misery and move on."
It's clear to see these NUFC fans have little desire to see Bruce take charge of the club for another match. Even if he is not sacked today, they may still get what they want.
The club do not play until 17th October, so there is almost a week for the club's new owners to make a decision before Newcastle feature on the pitch again.
It really does seem a matter of when, not if, with regards to the departure of the Magpies' current manager, so Bruce may well be gone before Tottenham Hotspur come to visit in the Premier League.
In other news: 'Sky is the limit', 'Still hasn't sunk in' – Many NUFC fans in dreamland over 'exciting' news