A number of Newcastle United fans have been angered by Gary Neville after he defended manager Steve Bruce on Sky Sports. 
When the Magpies were bought by the Saudi-led consortium earlier this month, it looked as if Bruce would be sacked in the near future. He is, however, still in charge of the club.
Despite that, there has been a lot of speculation in the media regarding who will eventually take over from him. While speaking on Monday Night Football (via Football Daily), Neville claimed that all the talk and criticism of the current club manager has been unfair.
He claimed it was 'not fair on a brilliant man', while also saying 'he deserves to be treated with decency'.
He concluded: "If you're going to sack him, pay him up the full money. Don't resist it, do the right thing and move on."
Would Eddie Howe be a good fit for Newcastle?
Yes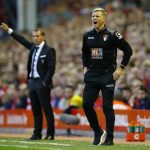 No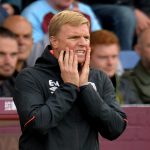 The video clip was shared on Twitter by NUFC 360 and Neville soon drew the ire of many furious Magpies supporters.
Here's what these Newcastle fans said…
"But if it is suggested that Steve Bruce takes over at any of his newfound fanboys respective clubs, suddenly everyone is looking at the floor. Hypocrisy."
"'Brilliant man', laughable as usual about Bruce from

@GNev2

, Bruce claims he wants what's best for the club, if that was the case he'd walk, but he won't as he'd rather drag the club down until he gets his money. That's not brilliant, that's not decent, that's pitiful."
"He will criticise his own Mam before even thinking about going for his mate."
"Basically just Gary Neville defending the two current worst managers in the premier league in Bruce and Solksjaer (given recent results and expectation) based off of nothing but pure bias because they were both his teammates. How predictable."
"Another one begging the new owners to pay him up. You get the feeling they've spoken to Steve Bruce and they are pushing the narrative for him"
"Steve Bruce called fans 'keyboard' warriors for pointing out the fact his record was atrocious and he couldn't even recall his previous 5 results. Where's the decency in him? So one-sided it's ridiculous."
With the Magpies stuck down in the relegation zone, it seems unlikely that the new owners would be willing to give Bruce much more time to turn things around.
However, if they are to sack him, they will reportedly have to pay the manager a reported £8m in compensation – perhaps that's why no action has been taken as of yet.
In other news: Insider drops interesting NUFC transfer claim, says 99-goal ace is 'on their radar' for January