Speaking exclusively to This Is Futbol, former Premier League midfielder Carlton Palmer believes it makes more sense for Manchester City to sign Kylian Mbappe than Harry Kane.
Kane was the striker City went after during the summer transfer window, something Pep Guardiola openly discussed.
However, some are now suggesting that the Premier League champions could make a move for Mbappe – renowned for his goalscoring ability and pace – after failing to sign Tottenham's talisman.
Who would you rather City sign?
Kane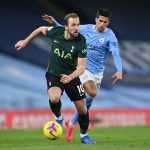 According to Ian McGarry and Duncan Castles, speaking on the Transfer Window Podcast, City want to sign Mbappe at any cost and are ready to compete with Real Madrid for the Paris Saint-Germain star's signature.
And from Palmer's point of view, going after him would be more logical, though he acknowledges the fierce competition from Florentino Perez that they would face.
"100%, because of his age, he's 22," the ex-Leeds United player said when asked by TIF if it makes more sense for City to target Mbappe over Kane.
"From his agent's point of view, I cannot believe he'll leave before next summer. I think he'll leave on a free next summer.
"He'll just go to Real Madrid and say, 'Well, you were going to pay 180 million and then you were going to pay my salary. I want that 180 million or as near as much as I can get plus my salary.' "
Guardiola has spoken recently about City lacking a prolific No.9, so whether it is Kane or Mbappe, you would expect them to go all out for one in January or next summer.
Related posts