A collection of Newcastle United fans have expressed their anger and confusion after Steve Bruce made some recent comments following the club's latest match.
Over the weekend, the Magpies passed up a number of key opportunities to claim all three points in the Premier League for the first time this season.
Indeed, both Sean Longstaff and Jacob Murphy, in particular, fluffed their lines when presented with great chances to score. As a result, Steve Bruce's men shared the points with Watford in a tight game that finished 1-1.
After the match, Newcastle's manager was asked about his club's fans yet again chanting for him to be sacked throughout the match.
Do you think the Newcastle fans are right to protest against Bruce and Ashley?
Yes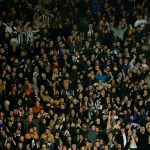 No
In response, he was quoted in the Chronicle Live as saying: "It's difficult – but that's all it is, noise. I'm just going to get one with my job. Try to do the job as best I can.
"We have the makings of a half-decent team. We have half a dozen missing. I can see us progressing, where others can't but certainly, I can."
The story was shared on Twitter and it didn't take long to draw a heated response from a number of United supporters.
Here's what these Newcastle fans had to say…
"The comedy from clueless Bruce, out the cup, sat near the bottom without a win is progress."
"Is this a joke???… Bloke's lost it… #BRUCEOUT"
"Where? We progressing to the Championship?"
"Deluded fraud."
"If anyone was ever guilty of nicking a living, it's him."
"Only progress we are making this season is towards relegation #BRUCEOUTNOW."
"Sad but true, it's looking ominous"
Bruce may reason that the club have managed not to lose either of their last two Premier League matches, which could be seen as progress. But these fans would likely point out that they've failed to win either of those games, or any others for that matter.
All in all, it doesn't look like the Newcastle manager can say anything to please these supporters at the moment. That likely won't change until he leads their club to a victory.
Related posts