The Athletic's Greg O'Keeffe has suggested that James Rodriguez may have been faking an injury to keep himself from being put on the bench in Everton's recent game against Aston Villa. 
The Toffees fell to a comprehensive 3-0 defeat to the Villans this weekend, and the Colombian played no part – just as has been the case for the entire season so far.
Speaking after the game, Rafa Benitez claimed the midfielder has a 'little problem' with an unspecified muscle injury, without going into much detail. The club's official website also does not list the player amongst their current contingent of injured stars.
While discussing Rodriguez on the All Together Now Everton podcast, O'Keeffe said these 'vague' comments from the manager left him wondering if the injury was not entirely real. 
He explained himself, saying: "I asked Benitez yesterday why he wasn't involved. Was it a case of not seeing the things from him in training that he needs to see?
"And Rafa said that it was actually because Rodriguez had said to him and the coaching team that he had a muscle injury.
"I have to say, it was a bit of a vague answer, which led me between the lines. And this is me surmising – you know, hands up here – to believe that that's possibly Rodriguez basically not wanting to know, not wanting to go away if he's on the bench. 
"And I feel again, we've got a problem here, because there's a player on an excess of £200k a week. If he doesn't want to rule himself fit and have the right attitude to come and be on the bench, then it's just a complete cluster-you-know-what here, because it's the symptom of the wider problem." 
TIF Thoughts on James Rodriguez and Everton…
The creative midfielder arrived from Real Madrid last season on a two-year deal. Having come from such a huge side, expectations may have been big, and the 30-year-old did initially show glimpses of his talent – scoring six times in his debut season.
Was signing James Rodriguez a complete waste of money for Everton?
Yes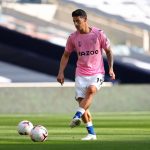 No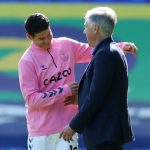 However, over the summer, there was plenty to suggest that Rodriguez wanted out of the club and even recently there have been reports linking him with a move to a side in Qatar.
Perhaps O'Keeffe was right to doubt the talk of injury, perhaps it was simply a cover story employed to allow the Colombian enough time to negotiate a move away from Everton as soon as possible.
Related posts