Speaking on the HLTCO podcast, Dan Cook discussed the latest transfer claims surrounding Eddie Nketiah.
During the summer transfer window, reports suggested that Crystal Palace were in talks with Arsenal to sign their 22-year old striker but once talks collapsed, the Eagles moved onto other targets and Nketiah remained with the Gunners.
Who is a better striker?
Edouard!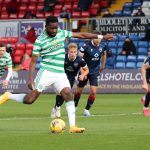 Nketiah!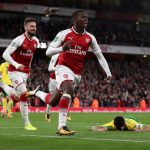 Arsenal are facing losing one of their academy graduates for nothing next summer when the striker's contract expires, and he is allowed to sign and talk to foreign clubs from January onwards, which may have been why Arsenal were willing to lose him this summer if they could insert a buyback clause, which is what Palace rejected, according to The Sun.
Cook gave his thoughts on the latest Nketiah news.
"The latest suggestion from whoever you might want to listen to in relation to this story, is that Edu, who is in charge of Arsenal's transfer strategy broadly now, wanted to insert something of a buyback clause for Arsenal.
"The actual figure, I'm not 100% sure on, but obviously when you've got a player like Eddie Nketiah that hasn't, with all due respect to him, proven anything really at Premier League level in terms of regular prolific goalscoring, trying to get a sizeable transfer fee out of Crystal Palace to bring him in is something that we obviously would baulk at, anyway.
"But then to try and insert some sort of a buyback clause into the deal so that if he does, heaven forbid, start actually performing well in our first team, Arsenal can click their fingers and bring him back whenever they deem appropriate for a pre-agreed fee, just doesn't make solid business sense from our point of view.
"If that is the case, then I'm very, very pleased that we stepped away from any of the negotiations, because I feel as though it isn't necessarily just Arsenal, but there is a sort of way of looking at things when you're dealing with 'big clubs', where they feel as though they can try and throw their weight around and bully teams like ours."
TIF Thoughts on Nketiah's situation…
Moving to Crystal Palace could have been an ideal move for Nketiah, as he could have stayed in London and got more game time under Patrick Vieira than he may now get with the Gunners given the forwards in front of him, but for now, he'll likely remain on the bench and feature in cup games when required by Mikel Arteta.
Nketiah was loaned out to Leeds United during the 2019/20 season, but was only handed two starts by Marcelo Bielsa, which saw Arsenal recall their striker in January, and with just four starts and two goals in the Premier League last season, it appears that Nketiah may not be cut out for top-flight or high-intensity football, given his lack of regular appearances.