The Athletic's James McNicholas has offered an explanation as to why Bernd Leno has been struggling at Arsenal as of late. 
The club's expensive purchase of Aaron Ramsdale in the transfer market has suggested that Arsenal may well be looking beyond Leno as their future number-one choice in goal.
One reason for the move could be that the club believe their new 'keeper can become capable of perfecting a short-passing game. This could well mean Arsenal don't think Leno is good enough in that department.
While speaking on the Arsecast Extra Arsenal podcast, McNicholas claimed that Leno's perceived lack of confidence on the ball could be down to his mentality, as opposed to his actual technical ability.
He explained: "I suspect that playing out from the back is only 50% about actual technical ability and kicking the ball. I suspect that a huge percentage of it is psychological and tactical. 
"So: understanding when you should do it, and when not, following the patterns, and also having the conviction, shall we say, the confidence, to follow through on that.
"I doubt very much there is a great deal between how well Leno and Ramsdale can strike a ball on the training ground. I'd be surprised if there's a gulf in quality, partly because of what we're seeing about Leverkusen saying he could do it in Germany and these kinds of things.
"I just wonder if it's that second part where Leno is struggling at the moment and where Ramsdale maybe, with the confidence of youth, may be less inhibited."
TIF Thoughts on Aaron Ramsdale, Bernd Leno, and Arsenal…
Interestingly enough, when Arsenal signed Leno from Bayern Leverkusen, his former club shared a tweet that showcased the German being involved in a goal thanks to his ability to pass out from the back.
This would help prove McNicholas' point about that particular skill requiring the mental aspect of confidence as much as it needs technical ability, too. With Arsenal not being overly successful in recent times, perhaps that can have a knock-on effect on a player's confidence, plus there is a clear element of danger when it comes to doing that job proficiently – particularly for a goalkeeper.
Should Bernd Leno be Arsenal's first-choice goalkeeper
Yes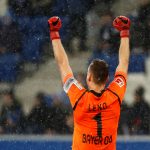 No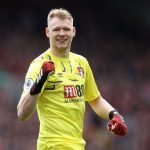 Having won the Player of the Year award at Sheffield United before securing his high-profile move to Arsenal, it would be easy to understand if Ramsdale is brimming with confidence right now. Perhaps this will be seen across the season as he rivals Leno for the club's number-one spot.