Football writer Chris Wheatley has revealed that, for the 'first time' as manager, Arsenal fans were keen to take photos with Mikel Arteta after a game.
In the club's most recent fixture, the Gunners cruised to a dominant 3-0 win over AFC Wimbledon in the Carabao Cup. A first-half penalty by Alexandre Lacazette was added to in the second half thanks to goals from Emile Smith Rowe and Eddie Nketiah.
The win seemed to put everyone in a good mood – which likely made for a great atmosphere, with more than 50,000 supporters at the Emirates Stadium for the match.
And it seemed the fans wanted to show their appreciation for the club's Spanish manager. Indeed, Wheatley claimed this new show of affection 'surprised' him, as Arteta stopped to take so many photos with fans after the game.
Will Arsenal qualify for European football this season?
Yes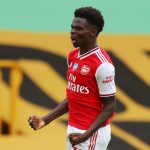 No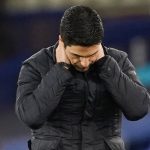 While speaking on his YouTube channel, he said: "The final thing that you probably didn't see from Arsenal's win against AFC Wimbledon was at full-time – with Mikel Arteta taking selfies with many, many fans. And what I was really surprised with was how many photos he actually stopped for.
"It's the first time I've seen that during his time at a club, where the fans were so keen to take photos with him."
TIF Thoughts on Mikel Arteta and Arsenal…
It's quite likely that the Gunners' recent turnaround in form is behind the apparent fondness between manager and fans.
Having got off to a poor start the season – which saw the club lose their first three league matches – Arsenal now have three consecutive wins in all competitions.
Of course, the upcoming north London derby will truly test just how much these fans are ready to back Arteta. If Arsenal lose on the weekend, he could be set for some less than enthusiastic treatment from the home crowd.
In other news: Sky Sports pundit heaps praise on 22 y/o Arsenal 'talent' who is 'only going to get better'
Related posts