Arsenal journalist Charles Watts has given his view on the future of Mikel Arteta and his tenure at the club following their start to the season.
The Gunners were able to bounce back from a rather disappointing start to the campaign, after which there were reports that Arteta was under pressure at the Emirates, with victory over Norwich City at the weekend.
The result now leaves them 16th in the table, and although there is still a long way to go in the season, if they don't carry on the momentum from their result against the Canaries, then they might still be in that position for the foreseeable future, and that might force the club to make a difficult decision.
Speaking on the latest edition of his show as part of a Q&A when asked about whether or not he felt Arteta was the man to take the club forward (18:46), Watts explained how he felt about the Spaniard and what he thought could happen if results didn't improve as the months went on:
"It's tough. I'm certainly not anywhere near as big an Arteta fan as I was at the start, and I would totally understand if they did decide to move on and bring someone else in. I'm beginning to question him a lot more than I did, but I still think now when you kind of look at the squad he's got now and a lot of the work they've done in the window it feels a lot more like an Arteta squad now that we're beginning to see emerge.
"And if he can't get this lot playing well over the next two, three months as we get to Christmas and Arsenal are still where they are in the league, then they absolutely need to make a change, get rid of him, bring someone else in because it's clearly not working.
"So I would probably say at the moment I'm leaning on the side of 'No, I don't think he's the man to take Arsenal forward long term', but I am willing to see how he gets on over the next couple of months."
TIF Thoughts on Charles Watts' comments about Mikel Arteta at Arsenal
Do you think Arteta will be Arsenal manager by the end of the season?
Yes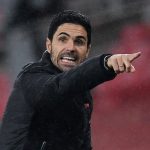 No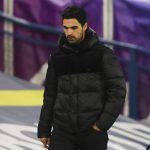 Whilst there is certainly a long-term plan in place at Arsenal, best exemplified by their transfer window and the fact they didn't bring in any players over the age of 23, until there is some significant progress on the part of the manager, there will always be questions asked about whether or not he is the right man to take them forward.
So these next few months are crucial for Arteta and his Arsenal future, because if Arsenal aren't making a move up the table quickly enough, with a number of top-quality managers out there with proven records of success such as Antonio Conte and Ernesto Valverde, you certainly wouldn't blame the club for wanting a change in the dugout sooner rather than later and seeing if one of them can take the club forward.
In other news: 'Looks like' – McNicholas suggests Arsenal have found another Monreal