In an exclusive interview with This Is Futbol, former Premier League player Carlton Palmer has urged Tottenham to give Tanguy Ndombele time.
Ndombele has had some difficult moments at Tottenham following his £53.8m move from Lyon, particularly in his debut season where he started just 12 league games.
He is now being linked with a return to his old side, with ESPN claiming Spurs have offered the French midfielder in a potential swap deal that would see Houssem Aouar head in the opposite direction.
Would you swap Ndombele for Aouar?
Every day of the week!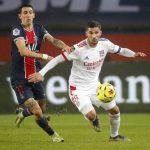 No way
Palmer, though, has called for Ndombele, who is still just 24 years of age, to be shown patience in north London.
"He has shown glimpses," the ex-Leeds United and Southampton star said. "He's a young player at 24.
"I think you have to have a little bit of patience. You've got to give these players a little bit of time.
"You've got to take the transfer fee out of the equation because that's not his fault the transfer fee. That's just the way the Premier League is now with the money available. So you've got to take that out, look at him and think, 'Right, can that player develop into the player I think he can?'"
Given that they were prepared to make him their record signing, Tottenham must have a lot of belief in Ndombele, so it is a surprise to hear that they are willing to offer him in exchange for Aouar.
You would have to assume, of course, that former manager Mauricio Pochettino was the one pushing for a deal to be completed. But given the outlay, others at the club must have also been convinced.