Everton podcaster Barry Cass has been sharing his thoughts on the possibility of former Newcastle United manager Rafa Benitez being named as the new permanent manager at Goodison Park. 
This comes after Cass made an appearance on a recent video from the Toffee TV YouTube channel where he discussed the current vacant manager position at the Merseyside club after Carlo Ancelotti recently left for a return to his former club Real Madrid.
On the subject of Benitez, who has been heavily linked with the position in recent weeks for anyone looking to register at Ladbrokes, Cass had this to say about the possibility of the Spaniard replacing Ancelotti.
He said: "I mean, he will be welcomed won't he because that's what happens, but I understand why people don't want him.
"I don't want him is the reality really, [he's] not one who I'd have gone 'I hope we get Rafa Benitez,' because that's really not what I'm thinking, but it looks like he's going to be appointed so you'd have to make your peace with it because what could we do? What can we do?
"We can put bedsheets outside and argue and moan, but it looks like they're still going to make that decision, anyway."
As well as previously managing Newcastle in the Premier League, Benitez has also taken charge of Chelsea and Everton's Merseyside rivals, Liverpool.
TIF Thoughts on Barry Cass' comments on the possibility of Benitez being named as Everton's new manager…
Taking into account what Cass had to say about Benitez potential appointment at Goodison on this video and the recent fan protests on the matter, it's safe to assume that the potential arrival of Benitez would not go down well with a number of Everton fans.
Would you be able to support Benitez if he was appointed as Everton's manager?
Yes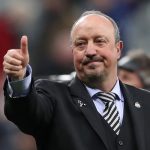 No
In our view, while it's understandable why some Everton fans would not be happy with seeing Benitez potentially being named as Ancelotti's replacement, the fact that he has a vast amount of experience of managing in the Premier League under his belt could make him a suitable appointment at the club.
Whether supporters could ignore the Liverpool connection and get behind him should he take the job remains to be seen, but it would appear that Benitez would have an uphill task on multiple fronts in order to become a success at Goodison Park.