Many Tottenham fans have been discussing a news update regarding Mauricio Pochettino that emerged on social media.
Journalist Alasdair Gold has recently written about Spurs' chase of Mauricio Pochettino, saying that the club's hopes of re-signing the Argentine have 'hit a major roadblock' because of Paris Saint-Germain's strong stance about keeping him. However, the report also says that Spurs haven't given up in the chase yet.
Do you think Spurs still have a chance of hiring Pochettino?
Yes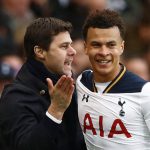 No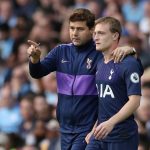 The report states that when the chance of returning to Spurs was put forward to Pochettino, the Argentine was clear about indicating his interest in the role. Spurs' hopes, though, have been dented by PSG's intentions of keeping their manager.
This update was relayed on Twitter by The Spurs Express. Many Tottenham fans made their views clear about the news.
What did Spurs fans make of the news about Pochettino?
"Just give up and get Conte."
"Jeez our board is so stupid!!"
Credit: @RushNair10
"Giving my Dybala vibes."
Credit: @xthfcjamie
"EVERYTHING about this story is embarrassing. Shambles doesn't quite describe how Spurs are being currently run. Levy and all around him should be massively ashamed of making us a laughing stock. By sacking JM days before a final, without a replacement, they should sell up now."
Credit: @SokariCharles
"I'm sick of this club. why are they trying so hard to get Poch when Conte is right there, we'll never progress as a club because of decisions like these."
Credit: @arrywinks
While PSG chief Leonardo has played down the talk of Pochettino leaving this summer, the Argentine has reportedly told PSG about his desire to depart the club, with Real Madrid also interested in him (via Goal).
However, the same report has also claimed that Pochettino has a special affection for PSG and he's prepared to respect any decision that they make about his future.
So considering Leonardo's stance and Pochettino's reported willingness to follow PSG's demands, it is fair to say that Spurs' chances of hiring the Argentine have reduced.
In other news: 'That'd be an insult too far to the Celtic supporters' – Mark Wilson drops player exit claim