Seb Stafford-Bloor has been speaking on the latest edition of The Athletic's Tifo Podcast about Carlo Ancelotti and Everton's struggles, as well as other news from the world of football.
The Toffees head into the final five games of the season in eighth place four points off sixth and nine points off fourth, so it looks like it could be another season without European football for Everton.
Ancelotti's side have had some shocking results this season, including losing to Newcastle United twice, Fulham at home, and Burnley at home.
These results have contributed to the Toffees' failure to push on from their brilliant start, and Stafford-Bloor believes that Ancelotti deserves criticism.
He said: (50:38) "If this [were] Jose Mourinho, we'd be all over him, I think because it's the tax that a manager pays for not being that likeable or for being antagonistic and I think it's fair to ask for a little bit more [from Ancelotti].
(51:02) "The tone of the performance sometimes is less than encouraging. You don't think with Everton; this is a team in progress. This is the team that in a year [or] 18 months is really going to be somewhere."
Do you think Ancelotti underachieved this season?
No, he is just laying the foundations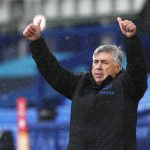 Yes, he could have done better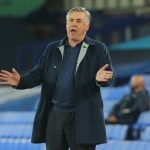 TIF Thoughts on Ancelotti…
The Italian has an incredible trophy record and has managed some of the biggest clubs in the world; however, it could certainly be argued that this season hasn't been as good as it could have.
The Toffees started brilliantly, and after six games, they were in first place, but as the season has gone on, they have slipped further and further down the table to the point where it looks like they will only achieve a top ten finish.
Now, it will be interesting to see what happens in the summer, and maybe if Ancelotti gets the players he wants, then Everton could become a serious force, but we do agree with Stafford-Bloor that some aspects of this season have been disappointing.
In other news: 'That's coming from people I speak to in the press' – Pundit drops big Everton transfer claim