Former Premier League footballer Marcus Bent has been speaking to Football Fan Cast about Duncan Ferguson and Carlo Ancelotti and the relationship between the two.
Before the Italian arrived at Goodison Park, Ferguson took charge of four games for the Toffees, and he has remained on Ancelotti's backroom staff as assistant manager, which suggests that Ancelotti values the Scotsman, and that seems to be the case.
Bent said: "I speak to him now and then. Dunc's a hard one to get hold of and a hard one to get anything out of.
"He's a very humble man and strict about what he says and what he does on and off the pitch."
"What he has said to me is that he's good to work with; he asks Duncan's opinion a lot of the time. The training is good. He [Ancelotti] lets Dunc take a lot of training sessions, so his opinion counts.
"Dunc is a massive Evertonian and a big part of the club, and he respects Dunc's opinion."
Are you pleased to hear this about Ferguson and Ancelotti?
Yes, it is brilliant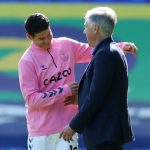 No, it doesn't matter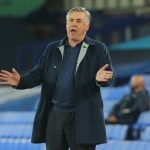 TIF Thoughts on Ferguson and Ancelotti…
Considering Ferguson is an Everton legend, it is good to see that the Italian clearly values his opinion and the fact that he even takes training sessions shows how involved he is with the club.
We think keeping someone like Ferguson around is a good idea because he understands the club, and that can only help Ancelotti understand the club as well.
This is sure to go down well with Everton fans, who must be pleased to hear that Ferguson and Ancelotti are getting on so well.
In other news: Pundit left astounded by rumoured Brands decision at Everton